Dentist in ramgarh
Skilled Dental Personnel With Local Experience When You Need It
Dental clinic in Ramgarh, Who will serve you with best experience. Will try to Heal All your Dental Problems.
Shri Sai Dental Builds Valuable Relationships With Patients
Shri Sai Dental Clinic is a multispecialty and a multi disciplinary dental clinic situated in the near of income tax office Thana chowk of Ramgarh Cantt. The clinic functions on the concept of providing the patients, premium dental care under strict sterilized and infection free environment. The Clinic is amongst the few dental clinics available in the area, which is equipped with the latest dental equipments, dental materials and sterilization equipments. Their objective is to provide comprehensive and prime dental care under one roof.
We specialize in rejuvenating the facial appearance and maintaining a healthy smile. We dedicate our time and energy towards providing you with excellence in dental and orthodontic care in a warm, friendly and comfortable environment adhering to international standards of hygiene.
High Quality Service For You
Orthodontics and Clear Aligners
Testimonials
What Our Clients Say
Sunil pandey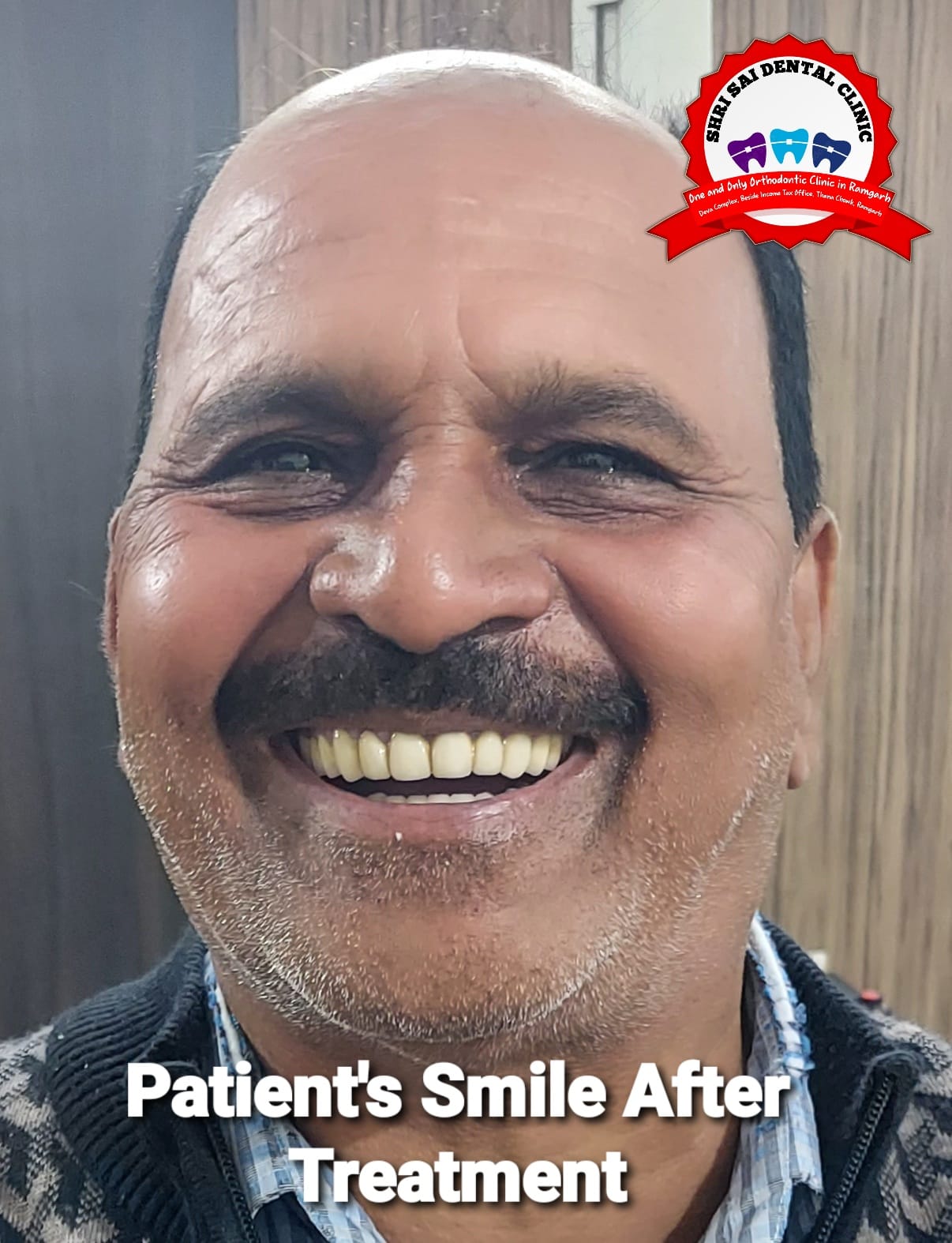 Murari prasad
Dr. Abhishek gave me a full mouth Rehabiliation. I have been blessed with a brand new beautiful natural looking smile by Dr. Abhishek. The man is gifted-it's his art! He has excellent bedside manners, never made me feel bad. Very personable. His office has an amazing team. I was very impressed with customer service and how everyone was genuinely nice including Dr. Abhishek. I chose him for all these reasons. They're very focused on quality patient care. Most importantly, his background and experience. He's at the frontline of his work and has a passion for what he does. You see it, I felt it and watched him. He has a gentle touch, never was in pain during treatments. The clinic is very clean and they are being very safe during this pandemic. I can't thank him enough! He does phenomenal work and is outstanding! Love him!
Don't Hesitate Contact us for any Information
Frequently
Asked Question


What is the difference between a Dentist and an Orthodontist?
A Dentist is similar to your family doctor — great for check-ups and filling cavities. An Orthodontist is a specialist who has two to three years of additional education and is an expert in straightening your teeth and choosing the treatment option that's best for you.
Although it is legal for a Dentist to provide Invisalign or braces, people should research the qualifications of their doctor before starting any type of Orthodontic treatment to make sure they will receive the outcome they deserve.
What are the advantages of Dental Implants?
Humans are "blessed" with 2 sets of teeth (baby teeth and adult/permanent teeth). When a single permanent tooth or multiple teeth are lost due to Dental Decay or Gum Disease, Dental Implants can now replace them as the 3rd set of fixed teeth!
Dental implants can last a lifetime and can improve your appearance, your confidence, and your ability to eat the foods you like, and participate in an active lifestyle, without worrying about your teeth. Dental implants are made of Titanium and can never get Dental Decay.
How do I know that a doctor is actually an Orthodontist?
Only a board-certified Orthodontist is able to be a member of the American Association of Orthodontists (AAO). Many Non-Orthodontists have started displaying credentials from various companies in their offices such as Invisalign®, American Orthodontic Society, International Association of Orthodontists, and many others.
What Is a Root Canal Treatment? Why Is It Needed?
Root Canal Treatment (also called Endodontics) is needed when the blood or nerve supply of the tooth (known as the pulp) is infected through decay or injury.
If the pulp becomes infected, the infection may spread through the Root Canal System of the tooth. This may eventually lead to an abscess. If Root Canal Treatment (RCT) is not carried out, the infection will spread and the tooth may need to be taken out..
What are Dental Implants?
A Dental Implant by itself is not a tooth! A Dental Implant is a prosthesis used to replace missing teeth. Essentially, it is a small titanium post/fixture that is inserted into the jawbone, on top of which a single crown (cap), a fixed bridge, a partial denture, or full denture can be attached.
Once the implant integrates to your bone, a structure called an abutment is connected to the implant and then the artificial tooth/teeth are attached. Therefore, there are 3 parts to an "implant tooth": The Dental Implant itself, Abutment, and The Artificial Tooth.